Create the beauty of the world with sincere love
Unity,innovation and excellence
Only by being proficient in specialty can we show our excellence
Company profile
---
Guangdong Xinhui Meida nylon Co., Ltd.Founded in 1984, is the first manufacturer to introduce nylon 6 equipment and technology. It has formed a large-scale modern enterprise with polymer polymerization as the leader and new fiber materials as the main body. It is a large-scale modern enterprise integrating nylon-6 polymerization, spinning, knitting and printing and dyeing. The company is one of the key enterprises in China and one of the large enterprise groups in Guangdong Province. It was listed on Shenzhen Stock Exchange in 1997. It has been ranked as one of the top 100 enterprises in China's petroleum and chemical industry. It has been rated as the national advanced collective of textile industry, and has been selected as one of the top 500 competitive power enterprise groups in China.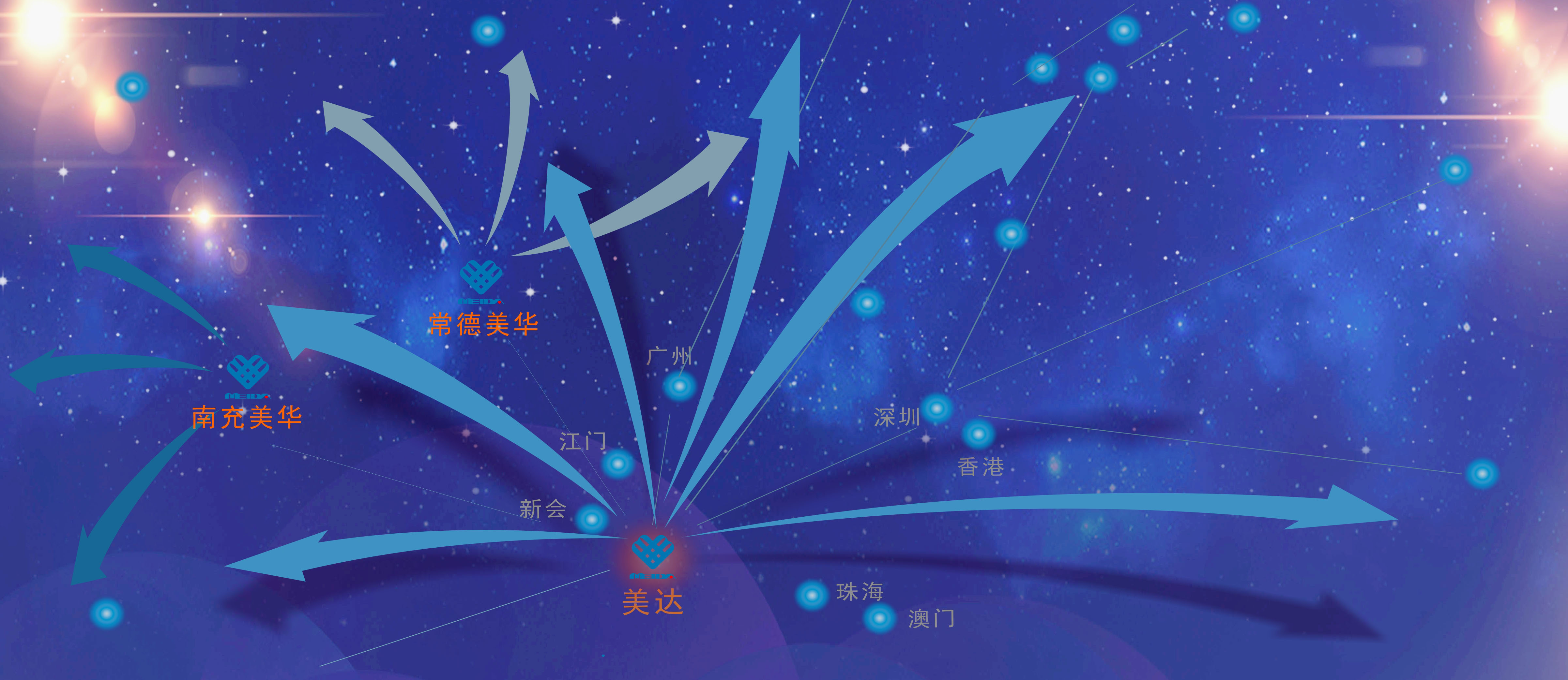 The company has 3500 employees and total assets of 2.8 billion yuan. The production capacity is 200000 tons of nylon chips, 110000 tons of filament and 4800 tons of high-grade knitted fabrics, with an annual output value of more than 5 billion yuan. The company's "Meida" brand chip products can be widely used in civil spinning, industrial spinning, packaging film, modified base materials, injection molding chips and other fields. Filament is widely used in knitting, weaving, fancy yarn and weaving, ribbon, lace, warp and weft knitting fields. Knitted fabric is the first choice for high-end underwear, fashion, swimsuit and sportswear.
The company pays attention to product quality and technological innovation. It has passed the certification of ISO9001 quality management system and ISO14001 environmental management system, and won the title of AAA + national quality credit enterprise. The "Meida" brand nylon chips and filament are famous brand products in Guangdong Province. The company has a national recognized enterprise technology center and post doctoral research station, has a large number of senior professional and technical personnel in the industry, has developed a number of technical indicators to reach the international advanced level of patent products, is listed as a national high-tech enterprises and technological innovation enterprises.
In addition to Xinhui headquarters, the company also has three subsidiaries: Sichuan Nanchong Meihua, Hunan Changde Meihua and Guangdong Heshan Meihua. Meida's goal is to create the strongest and largest nylon base in China, and through continuous efforts and pursuit, the company will become a competitive world-class enterprise.