Create the beauty of the world with sincere love
Unity,innovation and excellence
Only by being proficient in specialty can we show our excellence
Location advantage
---
General secretary Xi Jinping participated in the deliberations of the Guangdong delegation, and stressed the importance of building a major opportunity for the construction of the bay area of Guangdong, Hong Kong and Macao.
Jiangmen is a global city of entrepreneurship and innovation for overseas Chinese and overseas Chinese. It is a key link between western Guangdong and the Pearl River Delta.
Jiangmen is an important member of Guangdong, Hong Kong and Macao Bay area, with a unique hub location and development space.
In the future, Jiangmen will speed up the formation of a large traffic pattern of interconnection and all-round docking with the urban agglomeration of Guangdong, Hong Kong and Macao, highlighting the location advantages of Jiangmen as the hub and gateway city in the West Wing of Guangdong, Hong Kong and Macao. At present, Hong Kong Zhuhai Macao Bridge, Humen No.2 bridge and Jiangmen Maoming section of Shenzhen Maoming railway have been completed and opened to traffic. The planning and construction of Shenzhen Zhongdao channel and Pearl River Delta trunk airport are also speeding up. Jiangmen is an important node connecting the East and the west of Dawan district and an important hub city in the west wing. A new pattern of comprehensive opening is expected.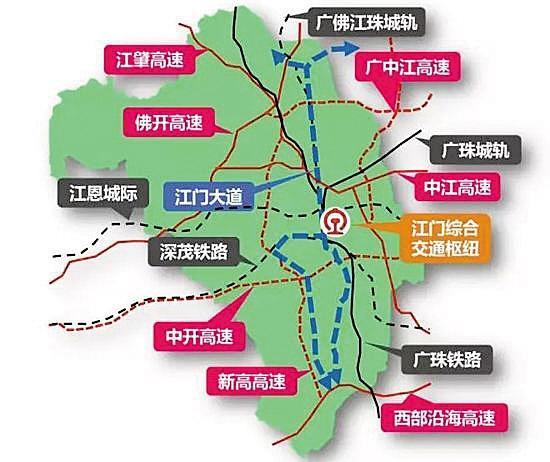 Jiangmen is the only city in Guangdong, Hong Kong and Macao with large-scale contiguous development of land. It is open, has broad development space, and has obvious advantages in land carrying capacity. If the development potential of the West Bank of the Pearl River, especially Jiangmen, is released, the construction and development of Dawan district will be greatly promoted.
Jiangmen will strengthen the planning and construction of Daguang Bay Economic Zone, accelerate the development and construction of the start-up area of Daguang Bay Economic Zone, and plan and build yinhuwan Binhai new city with high standard;
Focusing on the South China Sea strategy, relying on the deep-water port of Guanghai Bay and the port industrial park, we should accelerate the development of marine engineering equipment, new energy and new materials;
We should improve the infrastructure construction level of the park, actively provide a platform for Hong Kong and Macao Youth Innovation and entrepreneurship, and actively undertake the industrial investment spillover in the core area of the Pearl River Delta.