Create the beauty of the world with sincere love
Unity,innovation and excellence
Only by being proficient in specialty can we show our excellence
Salary and welfare
---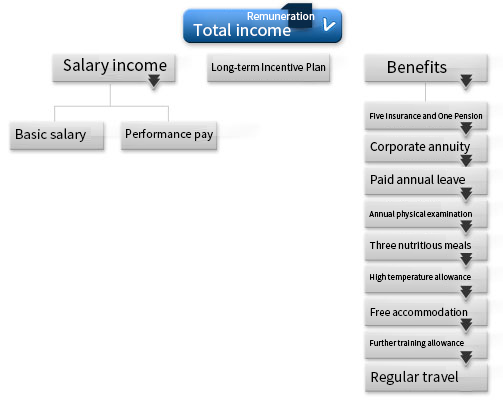 The company attaches great importance to the construction of corporate culture and pays attention to the daily life of each employee. On the basis of providing employees with various social insurance stipulated by the state, the company is closer to the life of employees and has formulated a variety of comprehensive welfare and cultural activities. The main projects are as follows:
Staff canteen
The company has its own canteen, employees can enjoy exquisite breakfast, rich and nutritious lunch and dinner, and all shift employees are provided with shift allowance, and herbal tea is provided free of charge every summer.
Birthday wish
"Emotional retention" is the consistent policy of Meida talent policy. Each "Meida birthday star" will receive a birthday greeting card and a birthday cake card signed by the general manager of the company in the same month. Although the gift is small, the true feelings are strong; a little heart, but there is infinite blessing.
Annual Checkup
"Health is the capital of revolution". The company pays close attention to the physical condition of employees and organizes employees to have regular physical examination every year.
High temperature allowance
"In hot summer, passion does not diminish.". The company is considerate of the employees' hard work in high temperature environment and stipulates to pay special high temperature allowance in high temperature month.
Shuttle bus
The so-called "send the Buddha to the west". The company has a spacious and comfortable factory bus to pick up and send off every hard-working employee, which is time-saving and safe.
Subsidy for further education
The company adheres to the concept of "learning enterprise" and has a perfect training system. In addition to the irregular collective training of employees, there is also a personal study subsidy to encourage each employee to develop to a higher level.
Mobile Library
In order to create a cultural atmosphere of "scholarly enterprise", the company carries out in-depth reading activities for all staff, and sets up "staff mobile library" every week, so that Meida employees can feel the smell of books all the time.
Regular travel
The company organizes employees to travel once a year to let them feel the beauty of the motherland after working. In addition, the annual advanced employees and operation experts are given travel rewards, so that each advanced employee's hard work over the past year is recognized.
cultural life
Staff amateur cultural life is colorful, the establishment of a blue team, badminton team. Set up weekly activity open days, hold more than one cultural and sports activities every month, and regularly hold large-scale sports competitions, such as sports meeting, interesting sports meeting, football match, etc., to enhance staff vitality.